News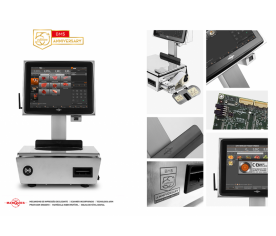 Balanças Marques launches BM5 50th Anniversary Edition
published in 2019-01-22 18:43
To mark its 50th anniversary, Balanças Marques launches a Special Edition of the BM5 scale, its star product in commercial weighing. BM5 50th Anniversary Edition is a top-of-the-line scale, of a limited and exclusive series, with new characteristics and features and a bold image.

The new BM5 scale is a Special Edition commemorative of the 50th anniversary of Balanças Marques, with a production limited to 600 units, all numbered and with allusive engraving in stainless steel, one for each month of the company's activity since its founding in 1967. It's the result of a half-century work by Balanças Marques, Portuguese company again elected this year the third best in the world at the Weighing Review Awards.
With BM5 50th Anniversary Edition, Balanças Marques created a new concept, but without losing all recognized qualities, such as robustness, efficiency and reliability. Besides the modern and bold design, BM5 50th Anniversary Edition counts on the application of the most advanced technologies, which puts it at the forefront and distinguishes it among the best scales. Its new structure was also developed with the aim of an even more practical and functional use.
BM5 50th Anniversary Edition is based on the latest ARM technology, with a Marques motherboard equipped with Dual Core processor, which guarantees high performance, speed and robustness. Its dual LCD Touch Screen, with projected capacitive technology, of 15" for the user, is another strength of this scale, as well as the fact that it uses ETPOS version 5, certified billing and management software, which is optimized for operation on this equipment.
One of the great innovations of BM5 50th Anniversary Edition is the innovative sliding printing mechanism. It is now possible to slide the printer out of the body of the scale, making it easier to change the roller, a solution that has allowed not to change the reliable printing mechanism.
The digital level bubble is another of the innovations presented in the new model of BM5 and that certainly will lead to a new trend in the world of scales, as well as the built-in scanner, which makes this Special Edition even more unique and unparalleled.
And since the great scales are also made of small details of the most useful in everyday use, a backrest was created on the BM5 50th Anniversary Edition plate.
Grupo José Pimenta Marques